I've been in Edinburgh for a six days now. I'm staying in student housing, part of the University of Edinburgh. There is a laundry station and a student gym close by. Our LSU performance group has taken up 3 flats of the dormitory. As it should be, we hangout in the cooking area, cooking, eating, chatting.
As far as I can tell, I am in the old town, where a majority of the streets are brick laden, bringing back nightmare of similar times dragging 60lb luggage with broken wheels around Austria.
As a central part of the town, Arthur's Seat is a beautiful peak from a set of hills, which Robert Louis Stevenson described "a hill for magnitude, a mountain in virtue of its bold design". There are several routes to reach the top, the toughest of which I hope to attempt involves a bit of bouldering.
Having spent 6 days here now, I'm fairly comfortable getting around, mainly on foot. Being able to spend so much time here, I am able to do many of the residential tasks – like laundry, grocery shop, clothing shop.
Fringe
We have been having company meetings almost everyday – organizing for PR, talking over the show, touring the performance venue, as well as seeing other shows. Since the nature of our show is physical, aerial, circus, we've seen six shows along those veins. Groups from Macao, Wales, and Australia.
I've spent a couple late nights tweaking the music and updating our website. I had a couple nights staying past 4am and 6am making sure things are sounding right and helping the performers with timing cues.
Today was our first day back in rehearsal and we're using the gym that is a block away from our dorms. With five days until our first show, I'm sure the performers are looking forward to getting the movements underneath them again. We re-construct the structure on Saturday. Tomorrow, we assemble the five thousand flyer-magazines which we hope to hand out. Flyers and word-of-mouth seem to the most powerful advertising agent at the thousand+ show festival.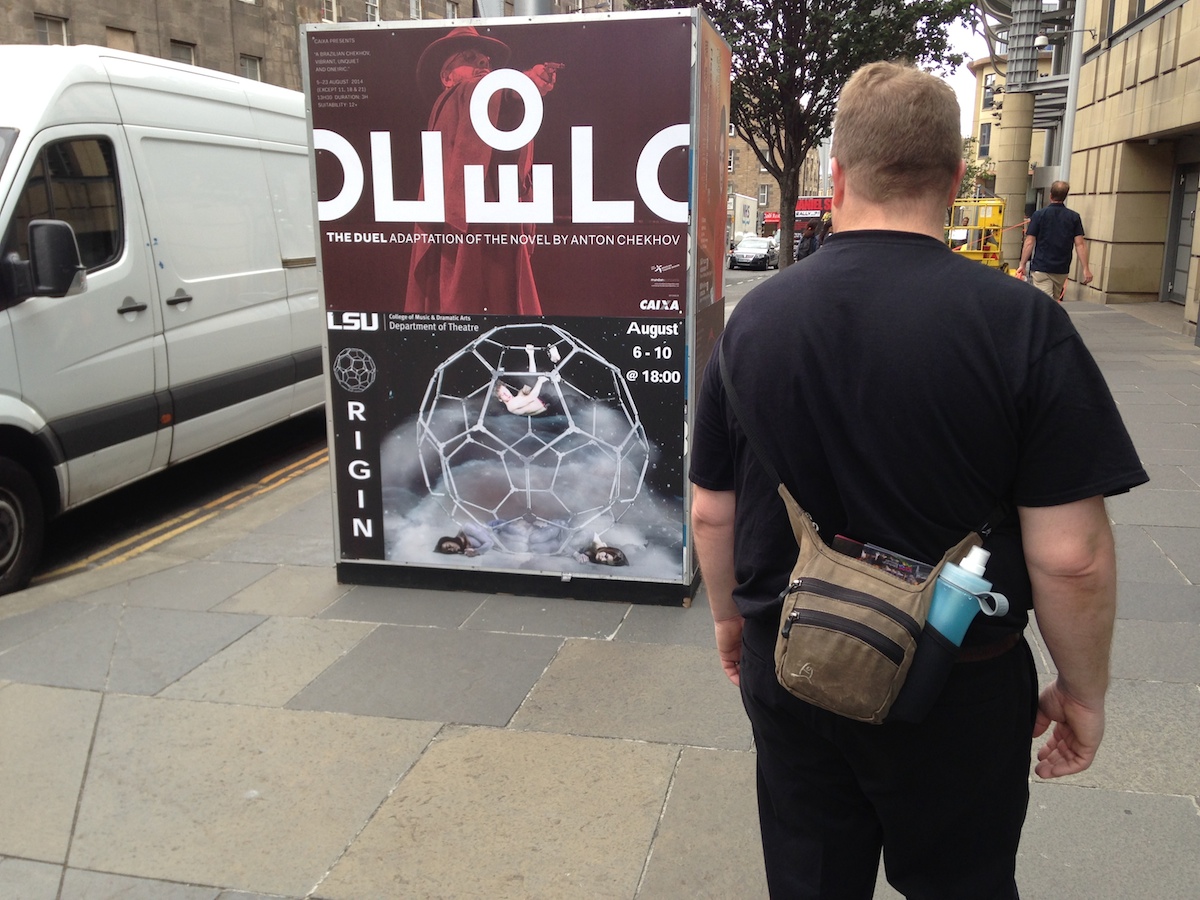 Today is the first official day at the Fringe, with many shows having given previews up this point. The number of people out on Royal Mile has more than doubled, with many, many street performers block: musical performers, fire acts, juggling, body mods, tumbling/circus, all sorts. You can not walk a block without seeing Fringe related. But with so many shows going on, there's an anxiety that coming along with our show in trying to attract interest and attendance. In a town with over a thousand shows, how do you get them to go to yours.
Weather
The weather here is unpredictable: it's sunny and warm, then rainy, then cold. I have experienced all in a span of an hour. For the third year in a row, I have been able to escape the oppression of Louisiana summer, which makes me feel lucky enough.
I have been able to play ultimate here in Edinburgh, which was very fun. A few players were preparing for Worlds competition.