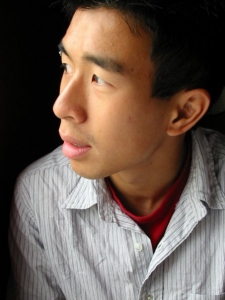 Nick Hwang is an educator, composer, and technologist who makes art, games, and collaborative systems that connect users.
Nick Hwang is an interdisciplinary artist who explores connections in art, technology, and interaction, focusing on collaborative multi-user interactive experiences. He is currently an Associate Professor at the University of Wisconsin at Whitewater. Nick earned his Ph.D. in Compositional and Experimental Music & Digital Media at Louisiana State University. Nick holds a Master's degree in Music Composition from Louisiana State University and a B.A. in Theory and Composition from the University of Florida.
His research explores the intersection of technology and creative expression, mainly in collaborative multi-user interactive experiences. His practice incorporates programming, audio and music, and design (graphic, interaction, interface, experiential) involving, and not limited to, sound as his medium. His works are audiovisual, gestural, explorative, immersive, and collaborative. He has published, shown, exhibited, and performed his research and creative work at international conferences such as the International Computer Music Conference, International Society for Electronic Art, ACM SIGGRAPH, Web Audio Conference, Society for ElectroAcoustic Music in the United States, Ars Electronica, and NowNet Arts.
Shall Make Shall Be – 10th Amendment
Nick
2023-09-22T21:24:41-05:00