Here's how to create patcher tabs in MaxMSP.
This is different than the tab or live.tab object. This method will create tabs seen in the help files in Max.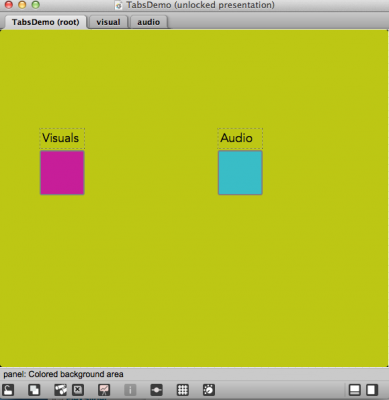 Create one or more subpatchers.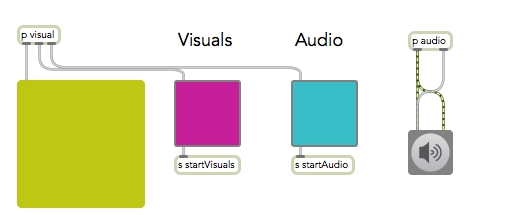 Open one of the subpatchers.

With the subpatcher open (with focus on that window), open Patch Inspector. (Not regular Inspector.) On a Mac, it's Command+Shift+I.

In the jpatcher section, check the 'Show on Parent Patcher Tab'.

If you previously put a title in the subpatcher object with the optional symbol, a tab will appear in the main patcher window with that title.
You can change the title of the tab (without changing the subpatcher symbol label) with the 'Title' box also in the jpatcher section in the Patcher Inspector menu.


**With Send and Receive objects, double-clicking will still bring up a small window with other send and receive objects of the same name– but they will not open when you click on them if they exist inside a tabbed patcher. (A reference issue?)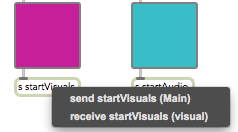 BPatchers can appear as tabs as well with the same method, with a few extra steps:
1. Create a bpatcher **in the main parent patcher window. (NB: Max crashed when I tried to create a 'tab' with a bpatcher in a non-parent tabbed subpatcher.)
Open bpatcher inspector (different than patcher inspector) and select Embed Patcher in Parent.

Control-click (on Mac) and select 'New View of <bpatched maxfile>' to open that patch.
Then continue with the previous method, starting at Step 3.
I hope this helped, I am sure there are more possibilities revealed in the Max API with jpatchers and such.
Below is a demo patch:

----------begin_max5_patcher----------
2491.3oc6c9rjihiDG9rqmBBGyocqsVkR7241rOD6kNlnBrQsKlFCN.b00LS
L8y9BR.FrAqz1TFwrtNXW.FH0GoRkHzOwe9zhkqR9fmsz3mM9hwhE+4SKVHV
U4JVTs7hka8+Xcjel3msbcx1s737kOK2VN+ibw5+k8AgI0qMd+1j84Q7bw9P
pV6WS2rRr7K0qYWJOq3f4mGlD+ZJectzRXTqhehAXZW9ksS4mL3EhwuVejRh
yyB+Cd4OGbOb37yW+VX7l1GJfHNTDyxu7LO4P01DDGtp0GFHJVIq9s+E0qU4
JLttXAsLlX+sbIFdmGGlZ7eRR91xxM+WO8T4GOijt4Ia1Dw6Gi0muUaVmDkj
JKeEkNGWSF7bw+4XBfis3+bILOZQwdfBZOr1w6.qK+rY+jVP9uuiK2gkgEW8
ObTGF4VCcDwfb2kMmfzB1lySekG6uJh21gp6ki6CtqQK4kRXa5T9e1nHsMYj
AM3wtcP6bW.8PQM9ugY68ixFo3FUDdDBaTi1pvFrqJrg8cKrQL+6EmwSnalQ
VteZNlPysICAQ.UJSPFawmTRKxzl.LMg.3byPyfJuiZF3bVFPmZFryveXG.5
4K7mDSJKbSrezxmUGcxj5HqB48h0yFlVmCR.oWHQTAo1mcdZEZpXSwtEFwem
ml0sJ5hk9610Z0KZsKk.82jw5setYUgwxUAMqJk+dX89a0rV+zBFjW.f8oRS
8CW6kxMVbQ7o5csFPx5QhXUVtf3KB8.eJa4IJY823AsPQwUjcEE+3iC+zr4.
9W82Gk+Z+WO6t8u5ulO3NeFduX4lzvfj3RSoy9Wt55S5WLpy7pcQR7Kh820y
NWTQMee1J+zRzV09Csdi4IIQc2TyUyh5D9wga8y44gRSlRZNnga2kJbTachj
Mu8V15zjnnNGJ4VdumsDTbAeM+6gA4u0oknxsT7yC2UegXYCiBB2vyx6ttb+
MYcWS1aIeuf19qNtLcHq719msCAzY8mKTP2vA4FgFgs2RuADNSPggSV4nnBC
FYPD1zU34ynkQGZGWXvruGLHp5.oKpClVUW7JoprPOL6HmubyH1hPgDQIWl2
c4mCVxcQUxqysR3WMhk1y3CkdZhECmA8E6JgzARjAmgM63FVFLE2AafYt3.A
T3hbf.c0+4e7ihPntiumSU1Ip7ep3HyQdKBN0dSC5AYOHHoC5AkFVXI2Gbt9
2WGw+wzgSOQJdLJUfSOk3z5ANQ3chFmlOvoxFKvSSldSy+YwcIPFeXhOuMpq
LposRRRzcRZOUjrpJNZTBd5NJAxjwRYqOUrzDTwRMOZ4VddZhAv9Lv4J+3MX
4I3JRr11RU50WStQeNYWukmk4ug2KV+I3Shon8OYBdZ5px+zQa344tAP+3fj
sE27g8zVomHuGPWUNotyAnFEFyKCjN9cNSYOyfloVBZZ5nhoC2lD6ASOpg9B
lxJ9CXX.KPlCjcxCATgVhDsllXhC.vbo0JuoowpJnVzXUMTMoJyNkNGhtJSr
xa5xqRh1p7prTGEfoMTsyvjPA2tg6rDNDZTAZ5jC+YF3BCL3EtaYwSlLus5t
HGYR7f0rIKdxjDXrpuOZGWTYl7f8iT4Q2qRWVy3NOxmGKXunTOovnm54gG9e
IOF3oZKL+xs2OwyR1mtttvWcuGFcKDA7r7v3lADwWZ5rmi9cuEFDzcjGHeX8
YkMcHGpEn7NtTK1EoE6nMVrCRK1SarXajVrq1XwlHs3xGYllXxkiGCC.iMiE
yaCC1kTzTQUrA43oCXNhmBFX2rT2y48ofh4hCnOQYnXqzR0mZsTrUaA8wjsv
hYa8wlMmg1LaFZy.ValnO1LAqMyzFaFvFdlpOgmArgmA8weFvFdlpOwmArwm
A8Ica.a7Y6qKsJKln6GcLk8ZtbfvTtzcNsJzkSvZ9csAXivEGfAS1EGrM3BZ
TkcJVaVeZvEvljPOEtIylwlj.LV2agwu9TawyrLy+cdvqEmB957W8yySCWsO
W1kRs08y3nwE0Jo4BD9QulhRSXnS8lnjU9QUpdp4HziJSd5.PGKsj8tPJc8K
lL1EJlLQ2X1tqL6U0D1sTho4Y0an2CUj8PEYOTQ1nohraTtJl.H0GKAobU7z
U8pTTQovQKvndt.3xePYra84OJYIyUl2NQBS3pdDYfNLNWem+wtTieJD92TK
qWtBhBuX4YAtNiBVkCGC4SKG7NCUc0aptye82J0244T348gnzpY6BKkH8Jdh
i2ShN4U8oRgziupOinANo2XaGUEZzscP011Nzi.c0NQXCzQeDnCIQQGn6L5P
VKhzk12bkx8bLVUIDWPNqpXqbrpX82FccacgA6lzXc67i4Q3JqGO2YcxDTVQ
A10l5X0YBzpxVRC3oGWlFzqw1VNbADDjQvNn7RS1GGz8dimpgL5zmngjjVtl
XyyfpAsQj88xBBtgXWuc.0WiR7yQxFlmSSOyW3y48hmI3ACxGqqdXJy9+obS
XWXpIzGoln.n1xIP.rYlvz6DStIIwhAnH0EqXpJp7KhntuBnpC5L9yQQrihO
ZENoR4EYIEYjyv3TymyPtoQQOFfhSUrRlBhHoNTUtnZ9zZyML94Q4h97E3lJ
GTpVfJjp42imVfTvrFo0BSPMWc076cVKp9WAVvoQJMpiA3o+MS4MgsRUgzhV
oZz8ksplp.xbXJFwahSmRR15zoT+jW.M.pe5BgspKvrrQJDV5eqEB6n4rUgU
rotCrYPt6joKpnDmsCJpN+cv7QB7XA6E0.NX8HKdjb8hx37LSqhWdJmSpHX0
nw8JVUvxNQig5tESclcPtbLHSmURMlM6rXgaALqLYX1oma8QnHVyNU9O1pN5
y2hYXgLSezNACqFUnWm9gLEOwG6p6yw9vR2Y8CgtbpQBbjQleZlGstn0mp.T
z49QlgSmBtyu4l.MRZYnmaBXyvoSAGsIoUz1LnMIsRw1fBSiTKr6LT84N2aw
cdOU4u47SI45zrVAaFpXe5raFhCuN1YyPaFleZu2a9I8d8IMTzSvAtOlr.l6
SV.7+Hve8ON+aW2geCwVMWzHeCwZZ0uz9c6UZ+zqvXaKegAr0qS1BC8VoV7j
lHxI8aWo.86rWCNkGHeudCT2luZ1oU9q+1Fg3EZ+xDFyKkZykpdmdKNIceNU
RtdbHfJ516ykp4FdPcCymVk+3N3xgHFsHx94hAdMKc37bb7gS7KtD6GTY+NW
l8KeoZ.ltxYeI4PItboOI6mnx9MUX+im4bzkZLSrbet1iCF6gd2rmtMtiogc
8vb.7d+lREI.RAtYZSaV5Sv8WT.fajmmz+5z1EfVEGkE.Y3zilsXJs8ilkXN
ZFh4zYGlglYXJNO+0S+O.o6yxh.
-----------end_max5_patcher-----------