I have been collaborating with two sculptors at LSU, Tom Lapann and Meghan Scuderi. I approached them on creating an interactive environment where visitor explore the interior of an enclosed seed-like structure with glowing orbs. These glowing orbs would light the way within the interior and also react to the objects inside. Larger than life plant-like objects will be imbedded with color, light, touch sensors and cameras that will react with sound and music within the structure.
Oosphere is a interactive environment. The self-contained sound-art installation has an outward shape of seed where the inward sights and sounds partially penetrate the semi-opaque shell. Visitors travel within the seed and navigate a dark, craggy interior with colored bulbs that light their way. These bulbs are the main interactive element, whereby moving/exposing the bulbs to the interior, the light and distance sensors, video cameras, and touch sensors react musically, sonically, and luminously. The act of visual discovery evolves into musical construction as visitors encounter more and more of the unique interactions from different areas of the interior.
Oosphere is a collaborative work between LSU graduate students Nick Hwang, Tom Lapann, and Meghan Scuderi. Nick Hwang is a doctoral student in Music Composition and Experimental. Tom Lapann is earning his masters degree in sculpture. Meghan Scuderi is earning her masters degree in digital art.
I hope to include our sketches and short videos as the project progresses.
At the moment, we are slated to show at LSU's Foster Gallery Sept. 5-8, 2012.
Update: We showing a pasta version this Saturday, May 12 in downtown Baton Rouge at the unoccupied Coca-Cola building at Florida Blvd and Third St, across from Schlitz and Giggles. Come check it out, below are photos of us putting it together.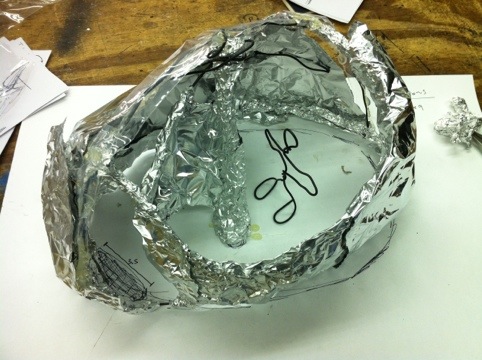 model with 1inch:1foot scale.