"And above all these put on love, which binds everything together in perfect harmony." Colossians 3:14
[Nocturne from String Quartet No. 1]
I went home to Florida for winter break, as I normally do, and got to visit family. This year saw the addition of two new in-laws: My sister's husband Aaron and my cousin Brian's wife Nelly. Gloria is 6 months pregnant and is expecting a girl– the first in my generation.
My cousin Joshua, the baby of the family, is graduating high school. Being at my grandparents house, I remember when he was in diapers– he is now the tallest in the family at 6'4″. Cousin Jonathan graduated seminary with his masters degree. Brian is also receiving his masters this May from seminary.
We were very fortunate to have the 17 of us get together on more than one occasion to hang out and eat. (Asians love to prepare food for each other. I know most cultures do.)
All of us have some sort of musical knowledge- we all know how to play the piano, some of us know other instruments. Christmas Day, we played music and sang.
Compared to other years, (yes it's inevitable, but) everyone seemed older. Maybe I'm just getting older. Or my attitude's shifting. I do know, though, that my family is very blessed.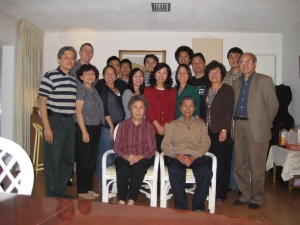 Colossians 3:12-17
12 Put on then, as God's chosen ones, holy and beloved, compassionate hearts, kindness, humility, meekness, and patience, 13 bearing with one another and, if one has a complaint against another, forgiving each other; as the Lord has forgiven you, so you also must forgive. 14 And above all these put on love, which binds everything together in perfect harmony. 15 And let the peace of Christ rule in your hearts, to which indeed you were called in one body. And be thankful. 16 Let the word of Christ dwell in you richly, teaching and admonishing one another in all wisdom, singing psalms and hymns and spiritual songs, with thankfulness in your hearts to God. 17 And whatever you do, in word or deed, do everything in the name of the Lord Jesus, giving thanks to God the Father through him.